Deacon Family Ministry Plan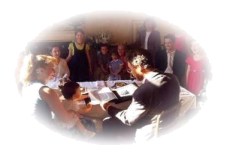 Revised Version: May 16, 2012
For those Pastors and churches who are interested in initiating a Deacon Family Ministry for their membership, we have packaged a simple brief starter guide for doing so. In addition, there are many good resource kits available via your favorite book outlet that will aid you in training for this task, including providing the necessary tools for 1 full year of family ministry: calendars, appointment books, pamphlets, tracts, logs, etc.
An online illustration of our brief starter guide has been provided before you download the necessary files for printing and distributing to each individual to be involved in this Program.
The Program includes 3 basic files with additional notes and Report Form suggestions
:
-
coverpg.doc
:
Example
-
plan.doc
:
Example
-
death&grief.html
:
View
-
notes.html
:
View
-
deacon_report.pdf
:
View
-
deacon_indiv_rept.pdf
:
View
After downloading the following zip file that contains these documents, simply unzip them and follow the instructions found inside the readme.txt file. Basically, all you have to do is edit the cover page (coverpg.doc) to reflect your own church's data before printing for distribution. However, you may modify or incorporate any or all of the Plan into your own to suit your individual needs.
- Download Program - Revised Version: March 8, 2012.