To Honor and Serve, A Soldier's Call
To Honor and Serve, A Soldier's Call
To Honor and Serve, A Soldier's Call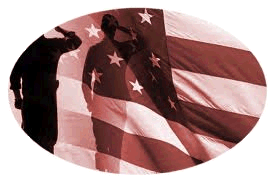 Greater love has no man than this: to lay down his life for his friends. - John 15:13
Romans 5:8, Romans 6:23, Romans 10:9, I John 5:12-13
The veteran's love for his or her country is much like a Christian's love for their Savior.
I could hear the band getting louder and louder as it came towards us. I had worked my way up to the curb weaving through the rows of people that were two and three deep that lined the street. It was Veterans Day and the parade was promoted to be one of the largest and best ever. I had never gone before to watch the annual event, however, I had marched in it once—many years past now when I was only eighteen and in the Marines.
It was an overcast, very cool, not cold, November Day—actually just right for a parade. It was cold enough for the steam to be rising from the manhole covers and culverts that lined the streets.
I now had a great vantage point, my toes were just hanging over the curb—a really good spot to catch the first glimpse of the band as it turned the block to come down the street I was on. Kids, moms and dads were lined up all over waving flags and eating cotton candy—some of the little ones bundled up, riding high above the head of others as they sat on their dad's shoulders.
Excitement was building as the first band to lead the parade was coming closer and closer; they were getting very close now, the base drum really echoing down the streets lined by brick and glass store fronts. I stretched my frame as tall as possible to peer over the line of people to my left, looking toward the oncoming music from the first band. Making the turn coming toward me, I could see three large American Flags now starting to appear as they were being carried high by the three leading band members.
As I glanced to the right, people scurried crossing the street as they began making way for the band as it came closer. I suddenly felt something cold and hard against my knee. I looked down and saw a man in a wheel chair; he had obviously been hidden from my view earlier by someone that must have moved. I noticed him squirming around rising up as he pushed down with his hands on the arm rests of the wheelchair. I looked toward the band once again and this time as I looked back toward the man in the wheelchair, trying not to stare, I noticed he was missing both legs just above the knees. He also was wearing a rather old tethered looking ball cap. There were a few pins stuck over it—VET was in bold gold letters on one of the pins. This really began giving me chill bumps as I started imagining how and when he may have lost his legs, probably in combat for our country—a Vietnam veteran, I bet.
The love for my country, the appreciation and connection with all those who are serving and have served never ceases to make me tear up and get emotional, especially at flag events like today. The emotion of the event having placed myself beside a veteran in a wheelchair was something I had not considered.
The band was now about seventy five yards from me and the gentleman in the wheel chair. I knew one thing: I was going to make sure I permitted him to see what he came to see. I looked down at him once more. It looked as if he was trying to get situated in the seat of the wheelchair, no, actually, what is he doing? Is he trying to get down?, I thought to myself. I bent over and asked him if I could help him with something. As he looked at me he said, "the flags—I want to stand and salute the flag." He reached up with one hand grasping mine as he slid out of the chair onto his stumps of legs, just in time to come to the salute position I am sure he was familiar with from his former days of active service.
As the flags now passed in front of him, I watched as he steadied himself against the edge of the wheelchair seat behind him. He raised his right hand and maintained a salute to the flags as they went by.
I don't recall what I did, with respect to the flags. My eyes were focused upon him. I only know that what he did left an impression in my mind and heart I will never forget. As the flags went out of his sight, he dropped his salute sharply and turned to his chair. As I reached once again for his hand, I could barely speak loud enough for him to hear me as my throat was swallowing the tears that swelled in my eyes. "Thank you for your service to our country, may God bless you," I managed to whisper. With his vice-like grip pulling on my hand as he once again worked his way back into the chair, he said, "I love my country and would lose both arms and my legs for her if I could be called to serve again."
This experience was told to me by my friend, Pete, a veteran himself, who was so moved by what happened that day. As he told me the story, tears welled up in Pete's and my eyes—Pete having been a Marine and I having served in the Navy during the Vietnam War. Our sacrifice was small compared to the loss of that veteran—one injured like many, he wanted to stand on the stumps he now had for legs to salute and respect his country's flag with honor—to honor once again.
Reflecting back on the story Pete shared with me some may ask how is it someone could continue the love after experiencing such a tragic loss, a loss that changed his life forever, still remaining dedicated, honoring and loving the very thing that took so much from him. He fought for his country and gave sacrificially. His call was likely like mine, called to serve at eighteen years of age, not fully understanding at the time what the Vietnam War was truly all about. I was asked to serve the country I love as so many have done before me. I accepted the call—trusted those over me and dedicated myself to the calling. For those of us who have served, men and women, we have a special love affair with and for America. It is one that is deeper than words can express; many times it is expressed only with actions, not words. Those who have served understand. If you have never served, you may not agree with me but those who have will support my statement.
The veteran's love for his or her country is much like a Christian's love for their Savior. After we accept Christ as our savior, like the soldier, we serve a higher calling and a service some can't understand or identify with. As Christians, like the soldier, we often do not understand tragic events that occur in our lives. We may experience a tragedy, loss of a loved one, or some event that may alter our life's plan, but we serve a greater cause for a greater purpose—just as the many dedicated followers of Christ who have gone before us.
As with the soldier's service for his country, nothing can prevent us from honoring and serving Him, or regret doing so for the One who directs our lives, no matter the loss or tragedy; our strength comes from Him. As Christians we know God sees the bigger picture and knows what is best for us for His purpose. We also know, as Christians, we are to lead by example in our service to and for others, always reflecting Him in all we do, many times with action rather than words.
The same tears that fill my eyes today when I hear the "Star Spangled Banner" and see the flag wave fill my eyes as I recall what our Savior did for me. He died on a cross that I may have eternal life; He shed his blood for me. As the soldier serves his country for the love of the country, so we as Christians serve our Savior—a service, love and dedication those that do not know Him cannot know or understand until they too accept His calling and serve Him.
Do you know Him? Wouldn't you like to have this special relationship? Wouldn't you like to know that no matter the difficulty of what life brings, you have someone to help you through, and most importantly, eternal life through Christ Jesus. God gave His only begotten son, who laid down his life so you may have eternal life. Like service for our country as veterans, you can't understand unless you accept His call—experience the service to and for Him. You may not agree or understand my statement here as before, but those who have accepted Him as their Savior, and serve Him, will once again support me in it.
Won't you join Him today? Ask Jesus to come into your life; confess your sins and serve Him for a joyful, life changing purpose.

Author: Bill Lowery
We encourage you to use these studies as you will.
All we ask is for you to e-mail us as to your actual use of them.