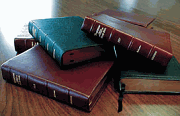 **

NOTE

:** Calfskin Thompsons are handmade and may take 2-3 months to bind and ship.
S P E C S:
Trim size: 6" x 8 1/4"
Page Count: 1923 pages
Point size: 6 point New Century Schoolbook
Gilding: 12 carat gold <
Features of this King James Version (KJV) Leather Thompson Chain-Reference Bible:
It is not usually carried in stores.
is brand new.
is hand-made.
has a rounded spine
has 4 raised hubs (ribs) on the spine
is the Red Letter Edition
has gold Gilded Edging
has two ribbon markers.
Is the classic Thompson Chain Reference Study Bible
You cannot buy a new Thompson with a softer, more beautiful cover
Black will be shipped.

Typical cost: $139.99
---