Free Daily Email Spurgeon Devotions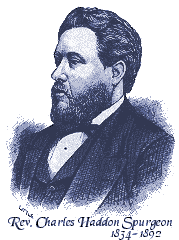 we want to commend you on your commitment to your growth in spiritual knowledge and life. We are pleased to be able to share in your daily walk in His Spirit and hope you will be richly blessed in your participation in this service we offer freely to all.
Each day you will receive in your email the following
:
A

daily Bible verse

that hopefully will speak to you for that day.
A

select portion of the Bible

in chronological order

for reading

that will carry you through

the entire Bible in 365 days

.
Plus

a Daily Devotion

from the works

of

the famous

Charles H. Spurgeon

.
---
Details of the program:
Each day you will be greeted in your email with the option you choose from below. Each is programmed to deliver the appropriate content to you each day, and, when completed after 365 days, begin again with the first (unless you choose to opt out at that time).


Besides the personal verse you will receive each day, you also will be given a select portion of the Bible to read for that day that will guide you in reading the entire Bible through in 1 year. This reading has been arranged in chronological order as to the likely time of the events they occurred in Biblical history, especially the Old Testament.


In addition, you will receive in the mailing a devotion from the works of the famous English preacher, Charles H. Spurgeon (view example). Spurgeon has been called the preacher king whose life and sermons inspired millions, still today. His meditations are among the best written by any since New Testament times. We are sure you will be blessed as you read them each day and grow in anticipation of the next to be received! Feel free to share them with others, or better still, encourage them to register to receive their own personal mailing.


You may choose which method of E-mail you most prefer
:
HTML Format
: If your Email Program will receive HTML (web-page) formatted email, this is the best recommended viewing option. Not only will it be graphically enhanced, it will display automatically a link for the Morning and Evening Devotion from Spurgeon's works corresponding to that day's specific calendar date (more timely than the following option which is hard coded for only one devotion non-date specific).
PLAIN TEXT Format: For those whose Email Programs will not process HTML (web page formatting), we have provided the option of registering for a plain text version. This version will not include any graphics and will be limited to a selected devotion from Spurgeon's Morning Devotions.
If you aren't sure about your Email Program, go ahead and sign up for the HTML Email option below. If your mailings do not display correctly, you have the option of unsubscribing and resubscribing for the Plain Text version.

After registering for either option, each email you receive will give you the opportunity to unregister if you change your mind at any time. Or, maybe you would like to switch programs. Just click on the "Removal" link in your latest email and return to this page to register for the other option. After your 365 days expire, your last email will contain other options
(and a nice surprise)
. You may continue, or choose to "unregister" at that time by following the link in your email.
So, if you're ready to get started, just click on your email option below, fill in the corresponding form, and prepare yourself to be blessed each day as our Lord meets you in your quiet time.
---

Please Register Your Email Option:



Attention AOL users

: Because of the unreliability and restrictive nature of AOL's email server system, we no longer accept any

@aol.com

email addresses. Please use another address for registering for this program.